San Diego Wrestling is a not-for-profit sports club offering San Diego area wrestlers an affordable and fun environment to learn and practice amateur freestyle wrestling. Our current club fees schedule for the 2017-2018 wrestling season are as follows:

San Diego Wrestling Club Membership: $50.00 per season
We provide a $10 discount on memberships for Full-time College Students and Active Duty Members - U.S. Armed Forces and members of Law Enforcement.

In addition: Each wrestler must have a current USAW Card:
USA Wrestling Membership/USAW Card: $50.00 per season (available on-line through USA Wrestling)

Also, For each practice attended, there is a Facility Fee: $5.00 per wrestler per practice*.

*The $5.00 facility collected from each wrestler at each practice goes directly to The Center for SDWC's use of their main auditorium for our wrestling practices. Your first practice is complimentary at no charge.

San Diego Wrestling's season follows the same calendar as USA Wrestling. USAW's wrestling season begins September 1st and ends on August 31st. SDWC/USAW fees are not prorated.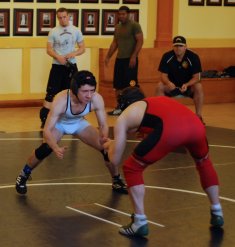 All members who will be wrestling on our mat must purchase a USAW card before their third practice - NO EXCEPTIONS!
Active wrestling members with a USAW card will receive full mat privileges, a bi-monthly subscription to USA Wrestler magazine, and secondary insurance provided by USA Wrestling.

Visit our JOIN US page for instructions on becoming a member and paying your
SDWC/USAW dues.